The monocoque
A mechanical work of art
This absolutely unique part illustrates Midual's aim to build motorcycles in the spirit of Swiss precision watch making.
By conferring on the object, in addition to its functions, an extraordinary level of care, attention, and creativeness, Midual has crafted a bike that is a real collectors piece, a sort of large high complication watch, but much more amusing to ride on a good winding road!
The Midual monocoque alone is sufficient demonstration of this philosophy.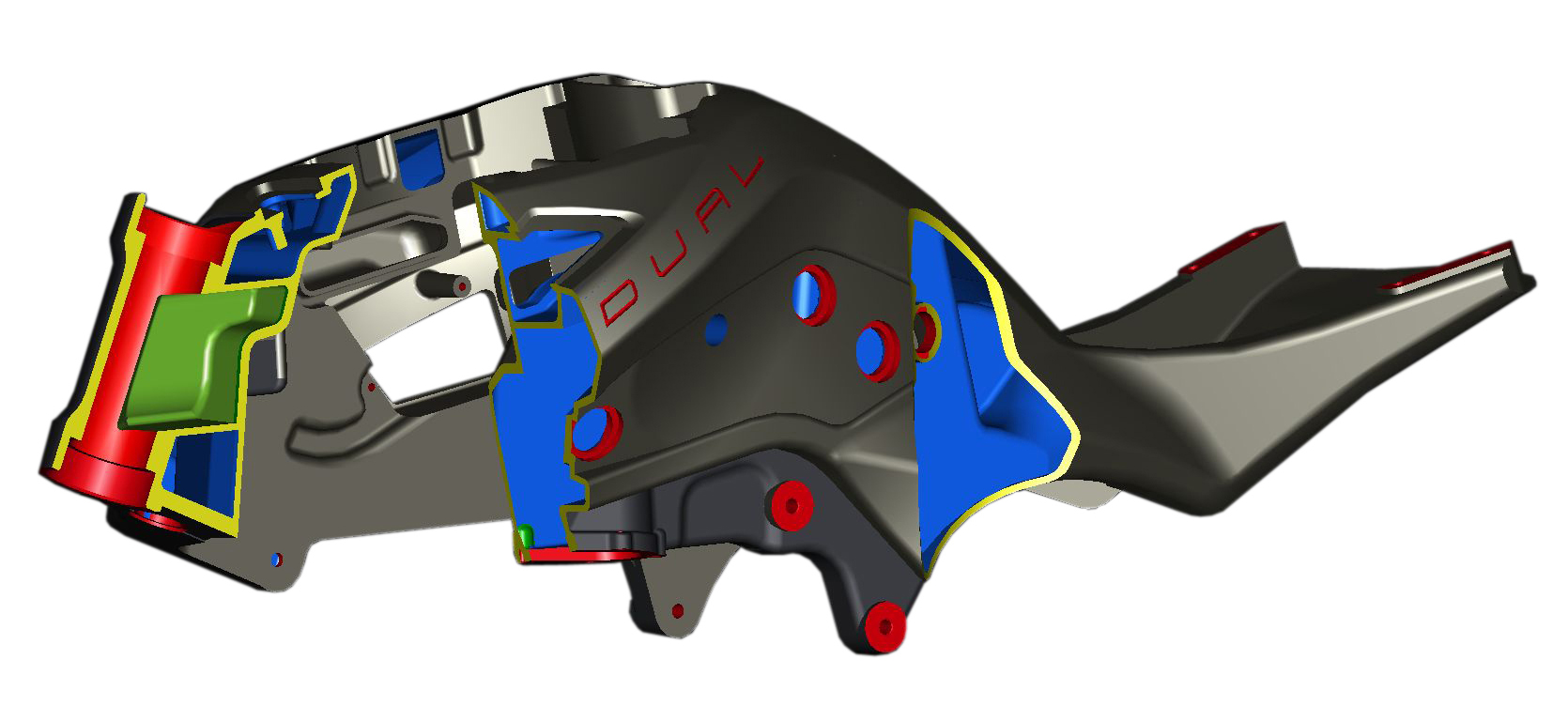 Detailed description
The Midual monocoque is a structural component, taking the place of the frame. Completed by 2 bolted plates in 7075 alloy machined from the solid, it supports the steering bearings, and links to the swinging arm shaft.
This part also constitutes the bike's fuel tank; its double skin forms a volume allowing 14 litres of fuel to be stored.
The outer skin of this element is the bike's bodywork, often supplied polished, and therefore requiring very good quality metal.
The front of the monocoque has 2 air inlets feeding the top of the radiator. The radiator itself is mounted via 2 cast "bananas" bolted to the monocoque. The engine air inlets pass through the bodywork and consequently the through fuel.
From the point of view of the road handling, this part allows high geometric precision, with good rigidity, but not too much, to maintain the bike's good handling.

This complex part alone required 7,000 hours of design and development work. It is sand cast in France from AlSiMg0.6 light alloy and heat treated.
The mould is complex. Its manufacture takes a long time and it is broken with each part. It requires 15 core boxes to be used to make 15 sand cores. Assembly of these parts, in a sort of 3D puzzle, forms the mould and uses 1.7 T of sand.
The cast part is then extracted from its sand gangue. At this stage it weighs 80 kg. The fettling, grinding and straightening operations follow, all done manually.
Then more than 90 hours are devoted to its manual finishing, fine grinding, emery rubbing, and up to the final polishing. The part is machined in house on a 5-axis machine.
It then receives a vacuum sealing treatment and coatings for the non-polished surfaces.
Its finally weight doesn't exceed 25 kg.